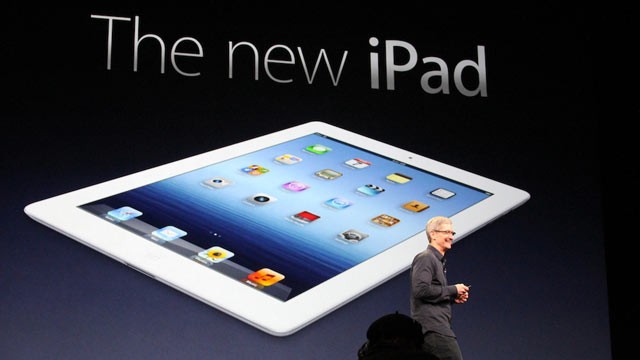 Did you watch the Apple's press event yesterday (March 7, 2012)? There were a number of software announcements as well as an update to Apple TV, but the most anticipated announcement was the new iPad. I must say that I was disappointed.
The entire event lacked the magic that Steve Jobs brought to these events in the past. He had a way to make you look at new features, even if other companies already had them, as the greatest technological innovation of all time. Steve convinced us that this new (fill in the blank) would make our life easier and make us happier and at peace. This "magic" was noticeably lacking at yesterday's event. The distortion field seems to have dissipated.
Admittedly, the newest iPad ("iPad 3"?) is a great device, but I am not sure that it is a big enough improvement for current iPad 2 users to throw aside their current device and pony up to the Genius Bar for another $500 glass of Kool-Aid. Here is a quick list of the main improvements:
"Retina Display" (Amazing! But the old display was excellent s well).
Now available with 4G (with contract and monthly fee) Note: With the lowest price 4G iPad and cheapest data plan you are looking at $1,109 for the device + data over 2 years (plus Apple Care, taxes, fees, and overage charges).
A super fast A5X Quad Core Chip
5 Megapixel camera capable of 1080p video
Biggest Mistake: The form factor is exactly the same (Like the iPhone 4s was to the iPhone 4). For a company whose users pride themselves on being seen with their Apple products, releasing an identical looking device takes out one good reason for upgrading - nobody who sees you with it will know if its the iPad 2 or the new iPad.
Best Announcement: To me the best announcement was that the current iPad (iPad 2) will remain available and that the price will be cut down to $399. I think they needed to go another $50 to the $349 price point if they want to compete with the $200 Kindle Fire and Nook customers, but the $399 has the potential to blow away the Android competition for full size tablets, and put them in the drivers seat for the impending release of Windows 8 tablets we may see in Q4 of this year. Additionally, more schools will be able to put them in the hands of students, which is their best long-term marketing strategy: build customer loyalty with kids.
Am I getting one? I am not planning on it. I do not see a tablet doing enough that my phone cannot already do to justify the price tag. That being said, if homeschool curriculum publishers begin to produce interactive iBooks I could see this being a great aid to my children's education.
Post a reply. I would love to hear your thoughts.